Tom Felton Going Back to Leavesden Studios to Do Reshoots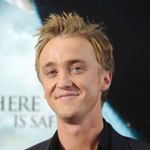 Nov 24, 2010
LA Times HeroComplex blog is reporting that Tom Felton (Draco Malfoy) will be returning to Leavesden Studios to do a single day of reshoots:
"I got the call today' Felton said Tuesday. "I have to go back for one
more day of reshoots. So I'm going back in a couple weeks to do,
literally, one more day."
The "Harry Potter" co-star, who has spent nearly half his life in the role of Draco Malfoy, said he will return to the blond-and-sneering persona for a single day of reshoots for "Harry Potter and the Deathly Hallows " Part 2′ the
eighth and final film in the franchise. That film is due in theaters
next summer; the final day of principal photography was last June and
post-production is well underway. But at last week's New York premiere
of the seventh film there was considerable chatter about the three main
stars " Daniel Radcliffe, Emma Watson and Rupert Grint ' having been notified that they need to come back to Leavesden Film Studios just
outside London for a bit more time in front of the camera. Now Felton
is another Hogwarts student going back to wizarding school for a bit of
post-graduate work.
"I knew that Dan, Rupert and Emma were called in and I was enjoying that, I was joking that, ˜Oh, I got it on the first take so
I don't need any of that, going back to do it again.' And here I am
eating my own words and going back to redo it. They just want to get a
couple of extra camera shots. I don't think anything was done wrong,
they just want to cover it more. It could literally be a case of panning
the shot five degrees to the left or whatever just to make sure the CGI
shot work. So I'm going to go and serve my duty."