Moviefone's Unscripted Taking Questions for Harry Potter Cast and Director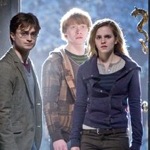 Nov 04, 2010
Moviefone's popular series, Unscripted, is bringing the stars of "Harry Potter and the Deathly Hallows" together to interview one another and answer questions from the fans.
Daniel Radcliffe (Harry), Rupert Grint (Ron), and Emma Watson (Hermione) took part in an Unscripted interview during 2007 for "Order of the Phoenix," but this time they will be joined by fellow co-stars Tom Felton (Draco) and Jason Isaacs (Lucius) and director David Yates.
Moviefone is asking fans to leave their questions as a comment to this blog post. The deadline is Tuesday, Nov. 9 at 10 a.m. EST. Moviefone will publish the video interview with the actors a week later on Nov. 16.