Dan Radcliffe, Rupert Grint Speak with Access Hollywood From "Deathly Hallows" Set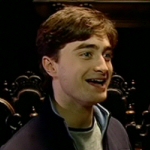 Nov 05, 2010
Access Hollywood has posted several video interviews with Daniel Radcliffe (Harry Potter) and a disguised Rupert Grint (Ron Weasley) from the set of "Harry Potter and the Deathly Hallows: Part 1."
Rupert is interviewed from the set of Gringotts Bank in full costume as Dragomir Despard (can you spot the dancing goblin in the background?). He speaks about the heavy make-up used for the break-in at Gringotts and the possibility of getting a commemorative tattoo once filming has completed.
Harry Potter Mementos and Possible Tattoo. Post-Potter Plans. Long Hair & Beard: New 'Potter' Look?
Daniel, on the other hand, reminisces on how he landed the part of Harry Potter and meeting co-stars Rupert and Emma Watson (Hermione Granger) for the first time. Daniel also talks about filming the final scenes with the Dursley's.
Auditioning and Becoming Harry. Saying Goodbye to the Films.
Thanks to SS for the tip!