New "DH: Part 1" Clip of Trio in Malfoy Manor, New Interviews and Behind the Scenes with Harry Potter Actors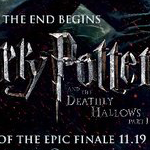 Nov 06, 2010
A new clip has been released from "Deathly Hallows: Part 1" which shows the Trio fighting in Malfoy Manor. The clip contains spoilers for the movie and you can see it here in our Video Galleries.
As readers may recall, yesterday we told you of a clip of the Trio fighting Death Eaters in a London cafe. We now have that clip to watch here in our Video Galleries.
Additionally, we have some new video interviews with some of the Harry Potter actors. Matt Lewis (Neville Longbottom) and Evanna Lynch (Luna Lovegood) were recently in Finland and were asked about some of their Harry Potter related memories there. Part one of the interview is here and part two of the interview can be seen here.
Finally, we have a behind the scenes special from Holland's RT4 network. This special, apart from showing the actors shooting scenes, has interviews which take place shortly after the last days of filming and addresses the feelings of Dan Radcliffe (Harry Potter), Rupert Grint (Ron Weasley), and Emma Watson (Hermione Granger) on the end of the series. You can see this video here.
Many thanks to Maria!