Actress Kelly Macdonald Reported to Portray The Grey Lady in "Deathly Hallows: Part 2"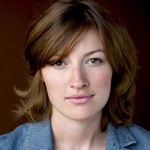 Dec 10, 2010
Vanity Fair as an interview online with actress Kelly Macdonald, from the current HBO series "Boardwalk Empire," which makes note of her appearing as the Grey Lady in the "Harry Potter and the Deathly Hallows: Part 2" film. The magazine reports:
Next thing I find out, she's got a small part as the Raveclaw house ghost in the final Harry Potter film.
John Lopeez: I hear now that Boardwalk's done, you're working on the final Harry Potter as we speak. They really are trying to get every U.K. actor into those movies.
Kelly Macdonald: It's true! I'm friends with Colin Firth, and he told me he's the only Brit who's not in it.
While this is not yet explicit confirmation of Ms. Macdonald's role as the Ravenclaw Ghost in the second part of the final Potter film, Leaky is working to confirm this report.
As fans of Ms. Macdonald's work will know, the actress has worked previously with "Deathly Hallows" director David Yates in the 2005 HBO film "The Girl in the Cafe." This film featured the actress working alongside actor Bill Nighy, who portrayed Rufus Scrimgeour in "DH: 1."
Stay close to Leaky for the latest!
Update: You can find various images of Kelly Macdonald at this link in the Leaky Galleries!