"Deathly Hallows: Part 1" Among Semifinalists for Visual Effects Oscar Nomination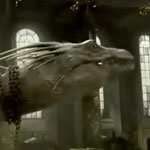 Dec 11, 2010
The Oscar race is heating up and, today, we have our first official mention of the "Harry Potter and the Deathly Hallows: Part 1" film being in contention for the golden statue. The Academy of Motion Picture Arts and Sciences has released the list of fifteen semifinalists for the Achievement in Visual Effects honor at the 83rd Annual Academy Awards, and has included the first part of the "Harry Potter and the Deathly Hallows" film among the feature films in the running. The full list is as follows:
"Alice in Wonderland"
"The Chronicles of Narnia: The Voyage of the Dawn Treader"
"Clash of the Titans"
"Harry Potter and the Deathly Hallows Part 1"
"Hereafter"
"Inception"
"Iron Man 2"
"The Last Airbender"
"Percy Jackson & the Olympians: The Lightning Thief"
"Prince of Persia: The Sands of Time"
"Scott Pilgrim vs the World"
"Shutter Island"
"The Sorcerer's Apprentice"
"Tron: Legacy"
"Unstoppable"
The press release continues:
In early January, the members of the Academy's Visual Effects Branch Executive Committee, who selected the semifinalists, will narrow the list to seven.
All members of the Visual Effects Branch will be invited to view 15-minute excerpts from each of the seven shortlisted films on Thursday, January 20. Following the screenings, the members will vote to nominate five films for final Oscar consideration.
The final nominations for the 83rd Annual Academy Awards will be announced on Tuesday, January 25, 2011, at 5:30 a.m. PST. The winners will be revealed on Sunday, February 27, 2011, at the Kodak Theatre in Hollywood, California. The awards ceremony will be broadcast live on ABC.
Many congratulations to the entire "Deathly Hallows" visual effects team!