"Deathly Hallows" Ranks High in Twitter's Year in Review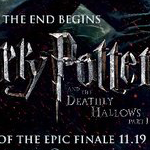 Dec 13, 2010
The social media site Twitter has released their Year in Review: Top Twitter Trends with several categories highlighting 2010's most talked about subjects.
"Harry Potter and the Deathly Hallows" made it on two lists, including Overall Top Trends. It ranked number 9 out of 10, just after Justin Bieber (#8) and before Pulpo Paul (#10, the octopus of World Cup fame).
"Deathly Hallows" also ranked high in the Movies category coming in at number 2, just after "Inception."
Twitter's other top trending categories included News Events, People, Television, and Sports. Their complete rundown of the past year can be seen at this site.
Thank you A.S. for owling!