Leakypedia Page of the Day – December 13th 2010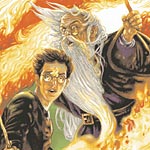 Dec 14, 2010
Hey everyone! It's already late in the day Tuesday, so we're going to give you the Leakypedia Post of the day for Today and Wednesday on this thread.
You all did a very nice job getting the Felix Felicis page done on Monday. Major props go out to Leaky users Nellythemarrow and Sohumdore for doing the griffins share of the work done it. Both will receive 75 MyLeaky points for themselves and their house!
For Tuesday and Wednesday we will be focusing on the entries for Luna Lovegood, and the Hippogriff. (Sounds like a pretty fun spin-off.. I'd read it.)
Now both of those pages have some content there to start with, but they both are in need of more complete information. Same guidelines as yesterday now, quote your work and contribute Canon accurate information. Major contributors will each receive 75 MyLeaky points!
Thanks everyone!