Arthur Levine to Keynote LitDay 2011!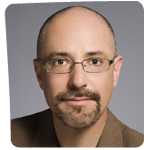 Dec 15, 2010
This summer at LeakyCon 2011, Leaky's second charity Harry Potter conference, we are presenting a special, new type of event: LitDay, a mini-literature conference bringing together some of the brightest lights in the publishing industry, taking place on July 13, 2011. Tonight we are thrilled to announce that Arthur A. Levine, American editor of the Harry Potter novels, will be delivering the keynote address.
Arthur Levine is the publisher of Arthur A. Levine Books and a vice president of Scholastic Inc. Prior to establishing his imprint at Scholastic, he rose from Editorial Assistant to Editor-in-Chief at G. P. Putnam's Sons, where he worked with Tomie de Paola, Tony Johnston, and Rafe Martin, and edited Caldecott Award-winning books by Peggy Rathmann and Emily Arnold McCully. As Editor-in-Chief at Alfred A. Knopf Books for Young Readers, he published The Golden Compass, the first book in Philip Pullman's acclaimed His Dark Materials trilogy, as well as novels by Jerry Spinelli and Russell Hoban. His imprint publishes a list of literary hardcover books for young readers, and his authors include, along with J.K. Rowling, Lisa Yee, Carolyn Coman, Ana Juan, Susan Shreve, Jonah Winter, and Shaun Tan. He is also proud to be publishing many bright new authors such as Francisco Stork, Elizabeth Bunce, Martha Brockenbrough, and Erin Bow.
This event is free to anyone with a LitDay pass. We are also opening admission to the first 200 LeakyCon registrants who wish to add it to their pass without going to the full LitDay, for $30. (If you have a Rock Star pass, this may be one of your keynotes included in your admission; someone will contact you about your preferences.) To register for LitDay, or add this to your LeakyCon registration, please log in to the LeakyCon Web site,choose my registration, then click the button on the bottom to EDIT your details.
LitDay is a full day of presentations from some of the most important authors, editors and agents in publishing today. It is $125 to the general public and $75 for an adult with a LeakyCon registration. Youth aged 13-17 may buy a separate pass for $50 or $25 with their LeakyCon registration.
LeakyCon 2011 will take place July 13 to July 17, 2011, in Orlando, FL. LitDay is Wednesday, July 13.
See you there!