Bonham Carter, Desplat, Macdonald and More Receive Golden Globes Awards Nominations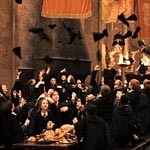 Dec 15, 2010
The nominations for the 68th Golden Globes Awards were announced yesterday morning; these nods featured a number of members of the Harry Potter cast.
"The King's Speech", which stars Helena Bonham Carter (Bellatrix Lestrange) Timothy Spall (Peter Pettigrew), Michael Gambon (Albus Dumbledore) has been nominated under the Best Motion Picture – Drama, category, whilst Bonham Carter also received a nomination for Best Supporting Actress for her role in the film. "Deathly Hallows: Part 1" composer Alexander Desplat was nominated for Best Original Score for the music in "The King's Speech".
"Alice in Wonderland" was nominated for Best Motion Picture – Comedy or Musical. The film stars Bonham Carter as the red queen, Alan Rickman (Severus Snape) as the Blue Caterpillar, Timothy Spall as Bayard and narrator of the UK Harry Potter audiobooks Stephen Fry as the voice of the Cheshire Cat.
Lastly, television series "Boardwalk Empire", which stars Kelly Macdonald (reported to play Helena Ravenclaw in "Deathly Hallows: Part 2", was nominated for Best TV Series.
The Awards Ceremony will be broadcast nationwide live on NBC, in HD,
Sunday, January 16, 2011 from 5:00-8:00 (PST)/8:00-11:00 (EST) from the
Beverly Hilton Hotel.