Last Chance to Get Your Jingle Spells CD BEFORE Christmas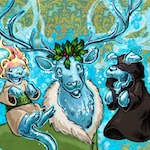 Dec 15, 2010
We only have about 200 left, and the last shipment before Christmas is going out TOMORROW – so order your Jingle Spells 4 (or JS4+LeakyCon CD package!) now – before midnight eastern time! While Jingle Spells 4 AND the live CD are on iTunes (JS4 / Live CD disc 1, disc 2), this is your last chance to get the physical version of either before Christmas.
This year, the Jingle Spells album's proceeds are going to our friends at The HP Alliance as well as a new beneficiary: Friends in Deed. Friends in Deed is a crisis support center – if you are a fan of the musical RENT and know the group "Life Support" represented within it, you know Friends In Deed. It is the group that Jonathan Larson based it on, it has helped thousands of people get through difficult times in their lives, and it is currently going through its own financial crisis. This year part of the Jingle Spells proceeds will aid this worthy organization.
Christmas, charity, and Harry Potter – what's better? Get it now!