Wizarding World of Harry Potter Expands Ollivander's Wand Shop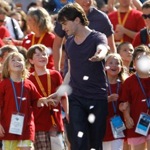 Dec 15, 2010
Inside the Magic today reports that Ollivander's Wand Shop at Universal Studios' Wizarding World of Harry Potter theme park attraction in Orlando, Florida, has undergone a small expansion in order to accommodate for the large number of customers.
The second shop can be accessed via Ollivander's through a door on the left-hand side which formerly served as the entrance to a stock room. According to Inside the Magic, "the store not only
features the same assortment of magic wands but also other Wizarding
World-exclusive merchandise, also available in other area stores." Read the full article at this link.
Thanks to our friends at Mugglenet for the heads up!