Bertie Botts Every Flavor Beans! Leakypedia Page of the Day.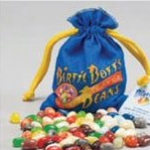 Dec 17, 2010
Happy Friday everyone!
Have you ever tried Bertie Bott's Every Flavor Beans? Personally I don't think you're a REAL Potter fan until you have. Not to say they are delicious in any traditional sense, but I guess that's not really the point is it?
For today's Leakypedia page of the day, we are focusing on this magical candy and what we know of it from the Canon. If you'd like to help us out in making our entry for Bertie Bott's Every Flavor Beans, head on over to the existing entry.

And if you're so inclined, order some Bertie Bott's for that 'special' Potter enthusiast friend of yours, right here.