Actors in the News Weekly Roundup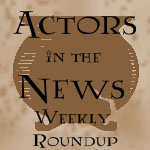 Feb 14, 2010
Valentine's Day is in the air in the first item of this week's roundup of news from the Harry Potter actors. Tom Felton (Draco Malfoy) has spoken to MTV about his plans for Valentine's Day and how he celebrated his recent two year anniversary with his girlfriend. The article comments on a trip the actor had planned to Vienna that he had to postpone as he was filming. Speaking about his "go-to gifts" for Valentine's Day, Mr. Felton said, "I'm a big fan of the two dozen roses and the kind of cheesy card to go with it…I can't help myself." The article can be found at this link.
Secondly, thanks to our Order Partner RupertGrint.net we can point you in the direction of an interview with Olympic ski jumper Eddie "The Eagle" Edwards in the Daily Mail. The interview mentions the rumour that Rupert Grint (Ron Weasley) has been considered to play Edwards in a biopic, the ski jumper describing it as "most excellent casting." Additionally, Edwards comments, "[Grint] can't start filming until he is clear of his Harry Potter commitments, and with everything I won't believe it until it actually happens, but I'm quite excited."
RupertGrint.net also reported the official classification by the BBFC of "Cherrybomb" as a 15. The film, in which Rupert Grint stars in a leading role, was classified as such because it "[contains] drug use, strong violence and strong language, once very strong." The page on the BBFC website also notes the film's run time as 85 minutes and 52 seconds.
The Teen Vogue website has placed Emma Watson's new fair trade fashion line with People Tree at number one in their Top Ten Spring Fashion Trends. The article also covers the Hermione Granger actress' reasoning for creating the collection with People Tree. When asked about her proudest achievement with the line, Ms. Watson replied, "I made sure everything felt good. Organic clothes can be scratchy, but ours feel heavenly!" The article quotes Ms. Watson as saying:

Girls I've spoken with are as conscientious as ever, yet there's so little ethical clothing out there for people my age … This collection reflects my casual side, the stuff I'd wear to class … The cuts are sexier than most sustainable brands. I'm a perfectionist, so I couldn't sleep if something wasn't exactly the way I wanted.
You can find the article here via this link.
We also have some new images in our galleries of Helena Bonham Carter (Bellatrix Lestrange) from the upcoming "Alice In Wonderland." The images can be found at this link.
Finally, an interview with Bill Nighy (Rufus Scrimgeour) has surfaced. It appears to be a followup to an interview we told you about in October 2009, with some new comments about his experience with his co-stars in his role as Minister for Magic. Quotage:

I know most of the cast, I've worked with most of them at some point or another. They were all very generous and it was a really nice job … it was nice to see Julie Walters, who I sort of started out with.

It was great working with Daniel [Radcliffe] and all the guys and they were very very good fun. They all made me very welcome, because they've all been together for years and years and years.