"Deathly Hallows" Anecdotes from Ciaran Hinds, Rhys Ifans and Jason Isaacs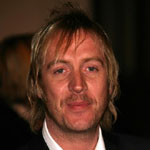 Mar 01, 2010
Actors Ciarán Hinds (Aberforth Dumbledore), Rhys Ifans (Xenophilius Lovegood) and Jason Isaacs (Lucius Malfoy) have shared anecdotes from the filming of "Harry Potter and the Deathly Hallows" with ComingSoon.net. Firstly, Hinds describes his role in the film as "just one scene with a little dialogue to give some exposition about Dumbledore's past life" and spoke of Daniel Radcliffe (Harry Potter), Emma Watson (Hermione Granger) and Rupert Grint (Ron Weasley) as "very charming, very gracious, made you feel very welcome." The Aberforth actor also comments:
I saw [director David Yates] working with the younger ones, giving them little pointers, never pushing, just suggesting about development, and here I am, part of what everyone has to offer. You really have to say they're confident and they know who they are, they know what they're doing and we have to ask if we're alright.
Rhys Ifans mentions that he is "really genuinely proud to have been invited to be part of that whole machine," and describes it as a "surreal situation to be in." Quotage:
You get on set and you see all these actors who you've either admired from afar or more often than not, actors you've worked with before, all sitting there, dressed up as wizards, having wand-offs[.]
Jason Isaacs was interviewed separately and said his experience filming the saga was "magnificent":
There's nothing greater than sitting around on a Harry Potter set when you're not filming and listening to the likes of Julie Walters and Maggie Smith and Michael Gambon and Bill Nighy and Jim Broadbent tell stories, and watching everybody chew the scenery up in the few moments you get on screen as well, trying to out-ham each other.