J. K. Rowling Reading at White House Easter Egg Roll Today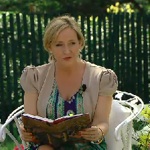 Apr 05, 2010
J. K. Rowling's reading has commenced, please see the above post for complete coverage.
style="background-color:#282828; width:480px; font-size:10px; font-family:Arial, Helvetica, Sans-Serif;">style="border-top:solid 1px #666666; margin:0 10px; height:40px; display:block;">style=" background:url(http://www.whitehouse.gov/sites/default/themes/whitehouse/img/facebook_bubble.gif) no-repeat; padding-top:13px; height:30px; float:left;">JOIN THE LIVE CHATstyle="padding-top:13px; height:30px; float:right;">VISIT WHITEHOUSE.GOV
Harry Potter author J. K. Rowling is set to read today as part of the Annual White House Easter Egg Roll at 1:30pm – 1:45pm EST and again from 2:00pm – 2:15pm EST. As Leaky first reported last week, the author will be reading from her first novel, Harry Potter and the Sorcerer's Stone, at the largest public event held in Washington DC each year, is set to host 30,000 from each of the fifty states. Live streaming coverage of the event can be watched right here on Leaky, or via www.whitehouse.gov/live.