Actors in the News Weekly Roundup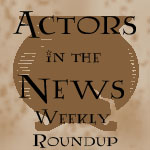 May 16, 2010
It has been a fairly quiet week in terms of news from the Harry Potter cast. Warwick Davis (Professor Flitwick) appeared on BBC chat show, "Friday Night With Jonathan Ross" this week. The actor discussed his recently released autobiography Size Matters Not as well as fan encounters and more. UK residents can watch the interview on BBC iPlayer; Davis is interviewed at approximately 35 minutes in. Thanks to Freya for the heads up and don't forget that Warwick Davis will be appearing on an upcoming episode of PotterCast. You can watch a video of Davis reading from his autobiography in our video galleries.
Jim Broadbent (Professor Slughorn) attended the premiere of "Another Year" at the 2010 Cannes Film Festival. A number of portrait photos for "Another Year" can be seen here in our image galleries. The film, in which Broadbent stars in a leading role, is slated for release later this year.
Thanks to our Order Partner RupertGrint.net we can tell you about an article in The Telegraph in which Rupert Grint (Ron Weasley) describes his perfect weekend. The actor covers childhood memories, recent experiences losing money on horses at Ascot, disguises at festivals and pub dinners. You can read the article via this link.
Lastly, we have a number of brand new photos of Clemence Poésy (Fleur Delacour) at the premiere for "El Pastel De Boda," in which the actress stars as Bérengère. The film has already been released in Belgium and France with the title "Pièce Montée" and will be released in Spain on the 21st of May this year. The photos of Poésy at the Barcelona premiere can be found here in our image galleries.