GMTV Visits Wizarding World of Harry Potter, Talks to Radcliffe, Grint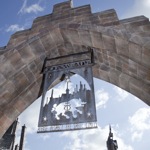 Jun 18, 2010
The first clips from GMTV's tour of The Wizarding World of Harry Potter have surfaced on the programme's website. Daniel Radcliffe (Harry Potter) spoke to GMTV presenter Ross King in Ollivander's about his post-Harry Potter days, commenting, "I don't know what my day to day life is without going to work … it's going to be interesting to discover what I do when I'm not doing Harry Potter."
King also spoke to actor Rupert Grint (Ron Weasley) who was caught enjoying the "incredible" view of Hogwarts castle. "I just cannot get over it," said Grint, "I don't know why they didn't build this for the film! It would have made a lot more sense, would have been perfect!" You can watch this clip – which will be in our video galleries shortly – on the GMTV website at this link.
Additionally, GMTV talked to the actors at the celebrity preview on Wednesday night and you can watch a video of Grint, Radcliffe, Tom Felton (Draco Malfoy), Michael Gambon (Dumbledore), Bonnie Wright (Ginny Weasley) and James and Oliver Phelps (Fred and George Weasley, respectively) sharing their views both on the park and on Mayor of London Boris Johnson's recent criticisms at the GMTV website via this link.
More clips from the morning television show are expected to be online shortly. Stay close to Leaky for more news and interviews from The Wizarding World of Harry Potter as they come in!