Bill Nighy Talks About Working on "Deathly Hallows"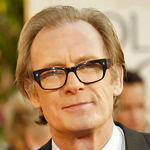 Jun 29, 2010
Watch the trailer for "Harry Potter and the Deathly Hallows" here in our video galleries.
Premiere.fr has a video of Bill Nighy (Rufus Scrimgeour) talking about his experience filming "Harry Potter and the Deathly Hallows," with particular focus on what it was like to work alongside Daniel Radcliffe, Rupert Grint and Emma Watson (Harry, Ron and Hermione, respectively).
Nighy speaks briefly about his role as the Minister for Magic, describing Scrimgeour as a "good guy." The actor also had kind words for Emma Watson, whom Nighy said is "adorable in the extreme, in every way, she's such a lovely person."
High praise also went out to the "charming" Dan Radcliffe and
Rupert Grint; Nighy expressed how nice it was to work with Grint again
after the actors both starred in leading roles in the recently released
comedy "Wild Target."
Bill Nighy additionally commented on the wrapping of principal production for "Deathly Hallows":

[The cast] were really nice to me, they've been there for 10 years. There were people on that movie finishing their Harry Potter life, people who'd been there for 10 years and it had been their life. And they'd become great friends. You do on a single movie: you become great friends, people get married or have babies or just become great friends. It's always tough to pull away because you go and do another movie.
On Harry Potter, they've done six or seven movies and they've become big parts of each other's lives. There was a feeling of, kind of, the end of things for people. Some people finished while I was there, they had their last scenes. It's a very big deal, it's not like other movies.
As for the Harry Potter cast's future projects, Nighy finished, "they will all go on and the audience that grew up with them will be happy to see them in other things. […] They've grown up together and that audience will stay with them, I would think."
Watch the video here on the Premiere.fr website.
Thanks to UniversHarryPotter for the heads up!