June 2010 Craft Along Now Open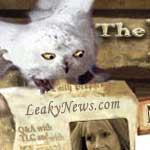 Jun 08, 2010
The Crafty Witches have now launched a brand new Craft-Along, in anticipation of the opening of The Wizarding World of Harry Potter. This month's challenge is to make something you'll want to bring with you on a visit to the Harry Potter attraction.
MyLeaky points will be awarded to everyone who participates in the Craft-Along as follows:
You can sign up to participate and ask any questions here at the Leaky Lounge or find more information on the Craft-Along page here. The June Craft-Along page can be found via this link with more information about this month's project. Finish products can be posted in this Leaky Lounge thread. If you're not registered at the Leaky Lounge, you can sign up right here. Happy crafting!