Harry Potter Cast Talk Film Inspirations to FILMCLUB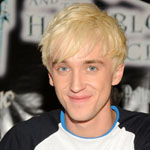 Jul 02, 2010
Tom Felton, (Draco Malfoy), James Phelps (Fred Weasley) and Bonnie Wright (Ginny Weasley) were among the numerous Harry Potter actors to speak to FILMCLUB about their film inspirations as part of the Film Journeys campaign. FILMCLUB provides free weekly film screenings at the after school film clubs of over 4,650 schools across the UK and the campaign invites young people to "discover films that they would not necessarily watch".
James Phelps names 1994 release "Forrest Gump" as the film that gave him the greatest interest in acting as he was growing up. "It has always been my favourite film for many reasons; there is no bad guy and the story went into real events in history," says Phelps, "[plus] Tom Hanks is a great actor, which makes it all so believable."
Tom Felton, meanwhile, cites "Robin Hood" and the James Bond films as his childhood inspiration; Bonnie Wright goes so far as to describe "A Little Princess" as "[the] film that changed my life."
FILMCLUB additionally spoke to Lucius Malfoy actor Jason Isaacs who talked about the "overwhelming" experience of watching MGM classic "The Wizard of Oz," describing it as "awash with colours and music and extraordinary looking people." A video of the Harry Potter actors talking about films that inspired them can now be found on YouTube via this link.
In related news, FILMCLUB also have a number of videos featuring Harry Potter actors on their YouTube channel. Tom Felton recently took part in a live webcast with FILMCLUB, which you can find at this link. The channel also has a very brief interview Professor Trelawney actress Emma Thompson at the premiere for her recently released film, "Nanny MacPhee and the Big Bang," which can be watched here.
As you may remember, Dan Radcliffe (Harry Potter), Alan Rickman
(Severus Snape), Jason Isaacs (Lucius Malfoy) and John Hurt (Mr.
Ollivander) have all previously voiced their support for the initiative. Find out more information about the FILMCLUB after school scheme on their website and watch more videos in which Harry Potter actors star on FILMCLUB's YouTube channel via this link.