Actors in the News Weekly Roundup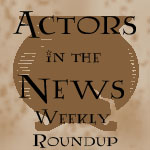 Aug 01, 2010
There are a number of news stories from the Harry Potter cast as July ends and August begins. Kenneth Branagh (Gilderoy Lockhart) attended the 2010 San Diego Comic Con International to speak on the panel for "Thor", introduce the cast and premiere the trailer. The 3D film, directed by Branagh, is scheduled for a 6 May, 2011 release. You can find images of Branagh at the San Diego Comic Con here in our galleries.
Tom Felton (Draco Malfoy) appeared on Sky Sports 1's programme Cricket AM yesterday, 31st July. Our Order Partner, DanRadcliffe.com, has very kindly captured and shared footage of Felton's appearance on the show, which you can find here on YouTube. In the interview, the Draco Malfoy actor spoke about being a child on the Harry Potter set, playing cricket with Harry Potter actor Dan Radcliffe and his involvement with cricket charity Chance to Shine.
Film news blog ScreenTerriers reports that Harry Melling (Dudley Dursley) has been cast as Robert Brown in a new BBC adaptation of Richmal Crompton's much loved Just William series. Melling's character is the older brother of naughty and scheming William, who will be played by Outnumbered's Daniel Roche, 10. The film begins shooting later this month and will be shown on CBBC in four half-an-hour installments in the run up to Christmas. Thanks once more to DanRadcliffe.com for the heads up!
Lastly, British television channel e4 are giving Slackers Club members a chance to choose between "Cherrybomb" – in which Rupert Grint (Ron Weasley) stars in a leading role – and rock-n-roll vampire comedy "Suck" to be shown at a free screening on the 11th of August. Slackers Club is a chance for students with NUS cards to gain free entry to e4 Slackers Club film screenings every month at a Picturehouse cinema. The voting closes at 10am on Tuesday, 10th August. You can take part in the voting process at this link.