Actors in the News Weekly Roundup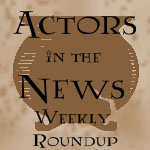 Sep 12, 2010
It has been a busy week for members of the Harry Potter cast as news and images of the cast from both the Toronto and Venice Film Festivals continues to pour in. Additionally, this week brought both information and promotional photos for new projects for a number of actors.
Firstly, Miranda Richardson (Rita Skeeter) and Clémence Poésy (Fleur Delacour) attended events at the 35th Toronto International Film Festival this weekend. Richardson was there for the premiere of new film "Made In Dagenham"; the actress stars as Barbara Castle in a dramatisation of the 1968 walkout at Ford Daghenam. You can find photos of Miranda Richardson at the premiere here in our galleries, while a number of portraits for the film can be found at this link. The actress also attended the third day of The Variety Studio at Holt Renfrew alongside actor Richard Schiff; pictures from this event at the Toronto International Film Festival can be found here in our galleries. Lastly, we have photos of Richardson at the George Christie Luncheon and at the Guess Portrait Studio.
Clémence Poésy was also busy at the festival, promoting "127 Hours" – the film is directed by Danny Boyle ("Slumdog Millionaire", "Trainspotting") and follows a mountain climber who has to resort to extreme measures to survive when he becomes trapped under a boulder. Poésy attended the film's Press Conference and the second day of The Variety Studio at Holt Renfrew. Portraits of the actress both by herself and surrounded by other members of the "127 Hours" cast and crew can be found here in our galleries; you can also find pictures of Poésy at the premiere for "Never Let Me Go" at this link.
Fiona Shaw (Petunia Dursley) attended the 67th Venice Film Festival for the premiere of her new film "Noi Credevamo." Shaw stars as Emilie Ashurst Venturi in the film and you can find images of the actress at the premiere here in our galleries.
Roger Lloyd-Pack (Barty Crouch) and narrator of UK Harry Potter audiobooks Stephen Fry both attended the London Premiere and After Party for comedy film "Tamara Drewe." Photos of both actors at these events can be found here in our galleries.
Moving away from premieres and film festivals to upcoming projects, Tom Felton (Draco Malfoy) has confirmed his role in independent film "Out of the Rough," which the actor says will be filming in Louisiana during October and November. In a new interview with Earth's Mightiest Fansites, Felton talks at length about his role as the son of Brian Cox in "Caesar: Rise of the Apes," including about how he was cast in the role, his familiarity with the "Planet of the Apes" franchise and his initial thoughts about his character. You can find the full interview at this link. Thanks to SnitchSeeker for the heads up!
Lastly, new promotional images
have surfaced of David Tennant (Barty Crouch Jr.) in character for four-part BBC drama "Single Father." As we told you back in
February, Tennant will star as recently widowed photographer Dave, who
falls for his best friend's wife. Although no date has been set for the first installment of "Single Father," it is expected to air in October 2010. You can find the promo photos in our galleries at this link. The August 2010 issues of "TV & Satellite" and "Marie Claire" magazines also feature Tennant; scans can be found here and here.
The first promotional photos of David Tennant sporting long black hair
in his role as Peter Vincent in 2011 release "Fright Night" have also
surfaced; you can find those images at this link in our galleries.