"How to Succeed in Business…" Broadway News Round Up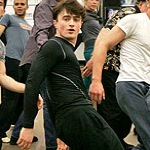 Feb 24, 2011
As previews are slated to begin this Saturday, coverage of the Dan Radcliffe (Harry Potter) lead Broadway revival of "How to Succeed In Business Without Really Trying" has been coming fast and furious. Here, now, is a brief roundup of the latest news about the forthcoming musical.
First, People Magazine has a first look at rehearsals for the musical, which feature a number of behind the scenes pictures by photographer Ari Mintz and reports as the cast and crew prepare to take the stage. Available to view here in its entirety, the first look photo spread showcases Radcliffe, along with his Broadway costars Rose Hemingway and John Larroquette.
Second, Playbill.com has introduced a new feature, The Director's Cut, in which the creative minds behind a Broadway show will interview members of its cast. To start, Playbill.com has the director of "How to Succeed…" Robert Ashford interviewing actor Dan Radcliffe about their forthcoming musical. Available to watch right here, the interview covers the production of the revival, Dan's decision to take on a musical role, how he became confident in dancing on stage, and much more.
The musical is set for previews this weekend and will open on Broadway at the Al Hirschfeld Theatre on March 27. Full details can be found via this link.