Audio from "Deathly Hallows" DVD Release Press Conference with Harry Potter Actors Online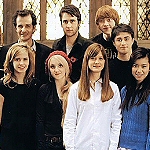 Apr 07, 2011
As readers will recall, Leaky was on the scene in NYC last weekend for the activities and press junkets surrounding the "Harry Potter and the Deathly Hallows: Part 1″ DVD release. WB has sent over audio recordings from two different press conferences which took place over the weekend. The first round of interviews can be heard here (Part One) and here (Part Two).
The second is divided up into Part One and Part Two, as well.
Actors and filmmakers in these interviews include:
Michael Gambon (Dumbledore)
Evanna Lynch (Luna)
Warwick Davis (Griphook)
Helen McCrory (Narcissa)
Bonnie Wright (Ginny)
James Phelps (Fred)
Oliver Phelps (George)
Robbie Coltrane (Hagrid)
Clemence Poesy (Fleur)
Domhnall Gleeson (Bill)
Freddie Stroma (Cormac McLaggen)
Natalia Tena (Tonks)
David Thewlis (Lupin)
Mark Williams (Mr. Weasley)
Producer David Barron
Producer David Heyman
Check back for Leaky's full report from the event! Enjoy!