Scans from EW's "Deathly Hallows: Part 2″ Preview Online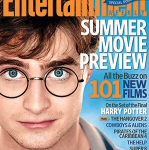 Apr 14, 2011
Leaky obtained an early copy of the upcoming issue of Entertainment Weekly, which we previewed earlier today, and now has full scans of the photos and articles here in our Image Galleries. In the photo spread, we see new shots of Harry in the Lestrange vault; Harry, Hermione, and Ron; and Neville holding the sword of Gryffindor.
The accompanying article contains many slightly spoiler-rific tidbits from the final installment of the films, so do use caution for movie-related spoilers. EW also speaks to the Harry Potter cast and crew about their feelings ultimately wrapping up the series, and delves into the filmmaker's ideas around setting the sprawling battle sequences on the big screen. The preview can be read in its entirety here in our galleries.
This issue of EW will be on newsstands tomorrow.
Many thanks to Andrew.