Tumbl [no e, get it?] with Leaky!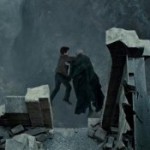 May 08, 2011
We are thrilled to introduce you to Leaky's newest creation; our very own Tumblr and caption contest (and only 6 years after Eric Scull started his!) in one. The Tumblr, which you can find here, will be an interactive, fan-friendly Tumblr account that is sure to satisfy your
Harry Potter cravings. We'll be posting pictures from the movies and
trailers and encouraging you to help us make memes; basically a
non-stop caption contest. Although multiple entries for each picture
will be posted on our Tumblr, only the best of the best will be posted here each day.
The image you see above is the one we want you to caption for us. So when do you start? Right now! Leave your best captions in the comments below and a winner will be chosen, awarded 100 MyLeaky points, and posted here tomorrow. Check back for the results!