Winners of Fred and George's Hogwarts History Contest Announced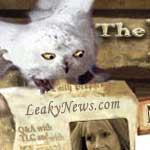 May 09, 2011
In April, the Contest Team asked you to write a passage from Hogwarts, A History as it would appear once it had been changed by the mischievous Fred and George as part of the Fred & George's Hogwarts History Contest. After receiving many terrific entries, the judges have now picked the winners as follows (please click the author's name to be directed to his/her winning entry at the Leaky Lounge):
First Place: shosier
Second Place: Ashley M
Third Place: LadyBlack
Honourable Mention: Chase Boyd
Honourable Mention: Gwynog'srabbit
The first place winner will receive a handcrafted wand donated by Wizard
Wood Wands (design changes each month) and 200 MyLeaky points. Congratulations to the winners and all who entered!