Vote for IQA to Win $25k Grant, Support Muggle Youth Quidditch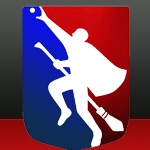 May 13, 2011
The International Quidditch Association has been accepted as a candidate for the Pepsi Refresh Project. The organization is eligible to win a $25,000 grant to start youth Quidditch programs in elementary and middle schools – but they need your help to win!
Fans are encouraged to vote every day for the IQA at RefreshEverything.com/Quidditch.
If won, the grant will allow the IQA to promote the youth program across the U.S., provide equipment for the schools, and host games. Help spread the word!