TV Watch: ABC Family Hosting Another Harry Potter Weekend, Dan Radcliffe Performing on "Letterman" and "The View"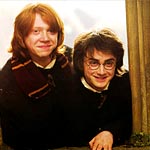 May 18, 2011
Playbill is reporting that actor Daniel Radcliffe (Harry Potter) and his co-stars from the Broadway musical "How to Succeed in Business…" have a few upcoming television appearances.
Radcliffe and co-star John Larroquette will perform their musical number "Brotherhood of Man" on the Late Show with David Letterman on Thursday, May 19 which airs at 11:35 p.m. EST on CBS.
The following morning, May 20, both men will appear on The View for another performance and sit down interview. The View airs at 11 a.m. EST on ABC.
Just a few short weeks following their exciting Harry Potter weekend and "Deathly Hallows: Part 2″ trailer debut, ABC Family has announced yet another Potter weekend marathon.
Beginning Thursday evening, May 19, ABC Family will air the first five "Harry Potter" films. The complete schedule is below:
Thursday, May 19
Harry Potter and the Sorcerer's Stone at 7:30/6:30c

Friday, May 20
Harry Potter and the Sorcerer's Stone at 3:30/2:30c
Harry Potter and the Chamber of Secrets at 7/6c

Saturday, May 21
Harry Potter and the Sorcerer's Stone at 9am/8c
Harry Potter and the Chamber of Secrets at 12:30/11:30c
Harry Potter and the Prisoner of Azkaban at 4:30/3:30c
Harry Potter and the Goblet of Fire at 7:30/6:30c
Sunday, May 22
Harry Potter and the Sorcerer's Stone at 7am/6c
Harry Potter and the Chamber of Secrets at 10:30am/9:30c
Harry Potter and the Prisoner of Azkaban at 2:30/1:30c
Harry Potter and the Goblet of Fire at 5:30/4:30c
Harry Potter and the Order of the Phoenix at 9/8c