49 Days Until LeakyCon 2011! Reminders, Previews, and More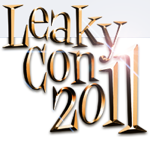 May 24, 2011
There are only 49 days until LeakyCon 2011, our second charity conference taking pace at Universal Orlando, Florida, the home of the Wizarding World of Harry Potter. With time ticking closer, here are a few updates and reminders before we get into BIG announcements next week.
First, if you're still on the fence about attending be aware: there are only about 100 more spots available! Full registrants get access to all four days of programming, an opening event, leaving feast, the Esther Earl Charity Rockin' Ball, and so very much more. To claim one of the few remaining full registrant spots at LeakyCon, click here and register now!
Our schedule is almost ready to be revealed, but here is a quick tease at what to expect:
Our informal programming team have made plans for a Horcrux Hunt, a Quidditch tournament from the International Quidditch Association, meetups, costume events, signings, trivia, crafts, even yoga and lessons from Ron's book of romance (heed it at your own risk!). Plus much more to be revealed soon!
Our academic track, meanwhile, will cover film, education, science, psychology, philosophy, fandom, writing, authorship and more. We'll discuss Muggle-mae magic, Hogwarts parenting styles, how to build better betas, and even what happens when Harry Potter meets Buffy Summers. Plus Q&As and sessions with the HP Alliance, the Final Battle, Finding Hogwarts and more.
The conference starts with Lit Day at 9am Wednesday, July 13. Opening festivities for the main event of LeakyCon start at 6:30 p.m. sharp on Wednesday! At 8 p.m. we will all begin traveling to the Wizarding World of Harry Potter park for our Open at the Close Private Park event: We have only a hundred or so tickets left for this very special event, where we have rented out the WWoHP park. From 10 p.m. it will be cleared of Muggles and available to only LeakyCon attendees, who will drink unlimited Butterbeer and ride the rides to their heart's content. Read more about it here. For those who can't go to the park, we will be playing movies in our main space.
Thursday the jam-packed schedule of formal and informal programming gets going, and we have a ton to do: a live LeakyMug, the Finding Hogwarts premiere, a wizard rock concert, and then there's that little Deathly Hallows: Part 2 movie screening (details to come shortly!).
Friday is just as full, with an entire day of panels, lectures, and events, including mainstage events like an encore performance of The Final Battle, live podcasts, and a few other surprises.
Saturday morning we have an awesome performance/event by the guys at StarKid (this event is sold out! you can add your name to the waiting list HERE), as well as a Quidditch tournament and yet more surprises! And at night is our Rockin' Charity Ball, which is now open to all attendees, including day pass holders.
A few other notes and reminders:
Registration for the Family Track is still open. This track is for children aged 3-12, from Thursday through Saturday. Full info and pricing is available here.
Our volunteers are currently accepting applications for many positions at the conference. You must be fully registered to volunteer; full details and our submission form (please do fill it out as completely as you can) can be found via our Volunteer Page. Feel free to contact us in our forum or email us at [email protected]
We are working hard on details for the DHII screening. You will have to be registered for the conference to even get the information. We will announce publicly when this information is available to registrants!
Only seven weeks left! We can't wait to see you in July!