"It All Ends" with Voldemort on Newly Released Character Poster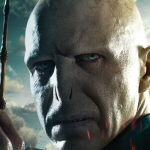 May 27, 2011
All week, Warner Bros. have been releasing individual character posters for "Harry Potter and the Deathly Hallows: Part 2″ and today we get one more.
Behold actor Ralph Fiennes as He-Who-Must-Not-Be-Named in his very own character banner, seen here, holding on to the Elder Wand.
Previous posters released this week include: Harry Potter, Hermione Granger, Ron Weasley, and Neville Longbottom.
"Deathly Hallows: Part 2″ arrives in theaters on July 15, 2011.