Scans from Empire Magazine's Celebratory Harry Potter Issue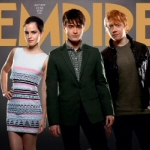 May 31, 2011
A collection of scans from Empire Magazine's recently released issue have been added to the Leaky galleries.
"Harry Potter: The Ultimate Movie Celebration" was an added supplement to the magazine's July 2011 issue. New interviews along with exclusive photos of the cast and previously unseen behind-the-scenes images from all eight films are included within the pages of the magazine.
View the complete gallery of scans here. Some highlights include:
Alan Rickman's "Thank You" Letter
Potter & Me: Words from Kenneth Branagh, Toby Jones, and Julie Walters
The Marauders: Gary Oldman, David Thewlis, Timothy Spall
Potter & Me: Words from Chris Columbus, Richard Griffiths, & Fiona Shaw
The Mentors: Michael Gambon & Robbie Coltrane (Page 2)
The Nemesis: Ralph Fiennes (Page 2)
The Brains: Emma Watson (Page 2)
The Rock: Rupert Grint (Page 2)
The One: Daniel Radcliffe (Page 2)
The Friends: Bonnie Wright, James Phelps, Oliver Phelps, Matthew Lewis, Evanna Lynch (Page 2)
Special thanks to the Leaky gallery crew!