Pigfarts, Pigfarts, here I come..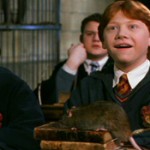 Jun 01, 2011
Thank you all for another round of wonderful submissions. You guys definitely make my job difficult! The winner this time, though, is Tumblr user daughterofmetis! Her Starkid-inspired submission (which there were plenty of!) matched the picture perfectly. Congratulations!


What in the world has caused so many mixed reactions in the next picture we want you to caption? You tell us! Leave your best captions in the comments below and visit our Tumblr for more of the other great captions we received this time. What else would you like to see on our Tumblr? We want it to be fan-friendly and a blog that you enjoy visiting. Leave your suggestions in the comments as well!