BFI IMAX Hosting All-Night Harry Potter Marathons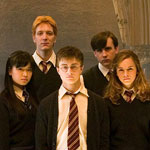 Jun 08, 2011
The BBC is reporting that the British Film Institute in London will be hosting all night Harry Potter marathons at their IMAX cinema in preparation for "Deathly Hallows: Part 2."

The seven already released films will be split over two nights for the 20-hour marathon all-nighters on 17/18 and 24/25 June.

Fans are also invited to dress up in wizarding costumes for the occasion.

"We can't wait to welcome the biggest and bravest Harry Potter fans in the country," said Justin Johnson, head of operations at BFI Imax. "If they see every film they'll spend almost 20 hours in the company of all their favourite characters!
Complete dates and times are listed below:
Harry Potter 1-4 (at the BFI IMAX)
17 June, 10:00 p.m.
24 June, 10:00 p.m.

Harry Potter 5-7 (at the BFI IMAX)
18 June, 11:45 p.m.
25 June, 11:45 p.m.
Tickets can be booked through the BFI website. Good luck to those who take up the challenge!