Wizarding World of Harry Potter Celebrates One-Year Anniversary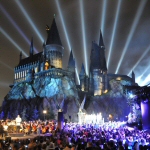 Jun 18, 2011
On June 18 at exactly 9:23 a.m. Universal Orlando celebrated the one year anniversary of the Wizarding World of Harry Potter. Guests and staff members inside the
park were treated to some complimentary Butterbeer, cauldron cakes and
Chocolate Frogs. The conductor of the Hogwarts Express led the crowd in a countdown; video of the event can be seen here.
To virtually commemorate the event and get everyone involved, a special Anniversary tab has been added to the theme park's Facebook page inviting fans to take a look at some of the highlights from the past year.
A fun Facebook application has also been set up for fans to raise their mug and share a virtual Butterbeer.