Leaky's Dear Mr Potter Daily Giveaway: Day Four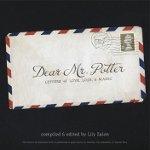 Jun 25, 2011
For day four of Leaky's Dear Mr. Potter Daily Giveaway, leave the answer to the following question in the comments: with which character in the Harry Potter series would you most readily swap lives?
A quick reminder that this contest is open to registered Leaky
members who can be contacted via their MyLeaky
profiles, are over age
of 13, and who are resident in the United States.
Over the next couple of days we'll be giving away one copy of Dear Mr. Potter: Letters of Love, Loss, and Magic
each day to a lucky commenter.
Leave your answers below, and good luck!
Dear Mr. Potter will be released on the 1st July — find out more information about the book, including where to pre-order, on the official website.