Rupert Grint Interview, Cover and New Photoshoot in Attitude Magazine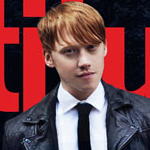 Jun 28, 2011
Rupert Grint gave an interview to the July 2011 edition of Attitude and additionally graced its cover. The Ron Weasley actor talked about eating cupcakes with the Obamas, upcoming projects and films he's already done, the last days on the Harry Potter set and drama as confidence-building.
On the films:

We're so engrossed in making them that you don't realise what a big deal they are for people. It's only when we go to premieres and see the excitement and enthusiasm that we realise that. It's really nice.
Answering the question, "What would you say to kids being bullied for physical things or for being gay?":

It's that weird school period when kids can be quite cruel. You've got to stick it out and just be strong. It's hard to know what to do but you have to get through it. I've never been that confident. At school I was quite shy. It was through drama club and doing plays that I found my voice. If you've got something like drama you can do everything. It's a really great thing for building up some confidence.
Rupert-Grint.us now have scans of the photoshoot, cover and interview at this link.