Entertainment Weekly Says "Thank You, Harry" In Special Double Issue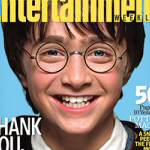 Jun 30, 2011
With just 14 days to go before the release of "Deathly Hallows: Part 2," Entertainment Weekly's latest issue is largely devoted to all things Harry Potter.
The special double issue featuring a young Daniel Radcliffe as Harry Potter on the cover hits newsstands this Friday, July 1. A sneak peak at the final film, interviews with the stars, an in depth look at the props and sets, and rare behind-the-scenes photos will be included in the magazine's fifty pages devoted to the series.
Director Chris Columbus ("Sorcerer's Stone" and "Chamber of Secrets") also recounts casting the young actors and bringing the first film to life:
The creators of the $2 billion-grossing Harry Potter movies may be laughing all the way to Gringotts Bank, but the success of the films wasn't always such a sure thing. "If they had cast American actors or put cheerleaders at Hogwarts " and all these hideous ideas were indeed being pitched and discussed at the time ' Harry Potter would have been one movie, not a series' says Chris Columbus, director of the first two films in the most lucrative movie series in Hollywood history. "It would have just died."
An exclusive photo gallery with new portraits of Daniel Radcliffe, Emma Watson, and Rupert Grint showing their playful side and blooming adulthood is available on Facebook by 'liking' the EW official page.