Leaky's Coverage from "Deathly Hallows: Part 2" Press Conference in London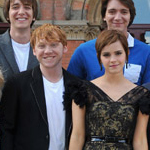 Jul 06, 2011
A press conference with the cast and crew of "Harry Potter and the Deathly Hallows: Part 2" took place in London today. Those in attendance included Rupert Grint, Emma Watson, Tom Felton, Matthew Lewis, Ralph Fiennes, Bonnie Wright, Evanna Lynch, Helen McCrory, Michael Gambon, Robbie Coltrane, Julie Walters, James and Oliver Phelps, Natalia Tena, Domhall Gleeson, Nick Moran, Warwick Davis, David Yates, David Heyman and David Barron. Daniel Radcliffe was not able to make it, but will be present at tomorrow's world premiere.

A photocall took place before the press conference, and images are now up in the Leaky galleries.

Leaky was on hand at the event and live-tweeted several of the questions & answers that took place. Highlights are below! Stay tuned for full audio later.
Dan is not here, so an pre-recorded interview is now playing. Dan will fly back to UK for 36 hours to attend the premiere.
"I don't have to torture myself and get naked," Dan on his Broadway experience this time around.
Dan on DH2: "lightyears ahead any of the films in the series"
Dan on what he'll miss: "I will miss most the crew, really, and the cast as well. Some of my best friends in the world.
I'll also miss some of the stuff I get to do as Harry. I don't naturally have the frame or stature of an action hero, so it's a gift."
"I think he should get nominations for best supporting actor:" Dan on Alan Rickman's performance.
Yates: "It's a great privaiage to be working with the world's best cast in history"
Rupert: "I don't think I've come to terms with the end. I've been feeling a bit lost.
To have it come down to this one film, it is quite sad."
"After this last film ended, I started to get this itch that i'm ready to go back now, and I realised I wasn't," Emma on ending the series
Yates on no Oscar noms yet: "We've all made peace with that in a way, there are so many other things to enjoy…Being connected to fans, such a global community, That's more compensation than a row of trophies."
Biggest turning point? Rupert: "For me it was these last two films. Ron has awlways been quite complicated guy"
Robbie on what he'll miss most "The journey of being a man 50/60 is very different from being in your 20s"
"Hagird was a thoroughly good man and this is the first time in my career that I've played a throughout good man. That was a bit of an eye opener for me. Imagine how much acting was needed there." -Robbie
Q to Emma: How much pressure do you feel beig a role model for children? Being a good girl role model? "Hermione is such a fine young woman that growing up beside her bef pushed me in that direction" – Emma
Favorite line? "Hello beautiful" Nick Moran / Davis: "Winggardium leviosa. (SP) / Evanna "You're just as sane as I am." / Isaacs: Dan saying "Don't worry I will be." / Felton: "My father will hear about this" / Fiennes: "I can touch you now." / Emma: "I'm going to bed before either of you come up with another clever idea to to get us in toubel or worse expelled." / Gambon: "Harry…" in the platform in the train station, he felt like crying. / Lewis: "Why is it always me?" / James: "Honestly woman, you call yourself our mother?" or "Mischief Managed"
Isaccs: "it always upsets me when they say franchises… because this is one story that's taken ten years to tell.
Gambon "I'm so wonderful to have been offered a part in a film that's been done over 7 years."
Evanna on leaving Luna behind: "I really feel so lucky to be Luna, she was my fav character
Emma's best memory "Getting to work with Helena Bonham Carter.. both when she tortured me and when we she played me"