Tom Felton to Appear at Hollywood Cinemas in Naperville and Woodbridge Illinois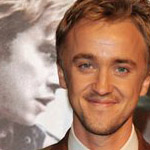 Jul 08, 2011
Tom Felton (Draco Malfoy) will be appearing at Hollywood Cinemas in Naperville, Illinois, and Woodbridge, Illinois to sign autographs and take photographs with fans who have purchased a ticket to see a film on that day. The actor will be appearing at Hollywood Blvd Cinema in Woodridge on both the 22nd and 24th of July and will be at Hollywood Palms Cinema in Naperville on the 23rd of July.
Read more about how the event will be conducted and purchase cinema tickets at this link.
Thanks to Michael for the heads up!