Universal Orlando Surprises Fans with Access to Wizarding World of Harry Potter After Midnight Screening of "Deathly Hallows: Part 2"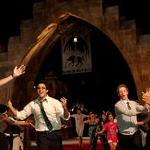 Jul 15, 2011
Universal Orlando gave Harry Potter fans the surprise of a lifetime following the midnight screening of "Harry Potter and the Deathly Hallows: Part 2" at Universal CityWalk's AMC theater.
More than 3,000 fans were given complimentary access to the Wizarding World of Harry Potter when the film ended at 3 a.m. All 20 screens playing the movie at the AMC Universal Cineplex were sold out. The Wizarding World of Harry Potter remained open for these select guests until 5 a.m.
Images of fans celebrating and entering the theme park in the early hours of the morning can be seen at this link!