Tickets Available for 14th August Warner Bros. Studio Tour – The Making of Harry Potter Event at London's O2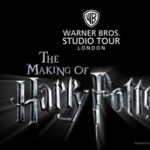 Jul 25, 2011
Empire BIG SCREEN have released individual tickets for the WarnerBros. Studio Tour – The Making of Harry Potter event, which will take place at The O2 in London on the 14th August (next month). A press release explains the event in more detail:

Warner Bros. Studio Tour London ' The Making of Harry Potter is a
behind-the-scenes walking tour scheduled to open in Spring 2012. The
unique tour will give visitors the first ever chance to visit the real
Harry Potter film sets to learn more about the workings of the
breathtaking special effects and the incredible animatronics, as well as
experience the sheer scale and incredible detail of the sets used by
the cast and crew on all the films.

Details for the UK's most highly anticipated visitor attraction will
be revealed in a special live showcase at Empire Presents BIG SCREEN
event on Sunday, 14th August at 16:30 (GMT) within indigO² at London's
The O² and will be shared by special guests from the cast and crew from
the most successful film series of all time, Harry Potter. The event
will culminate with an exciting announcement that both film and Harry
Potter fans will not want to miss.
Cast and crew will be present at the event's live showcase and tickets, at £10 apiece, can be bought on the Empire BIG SCREEN website at this link. You can also keep up with information about the event via the BIG SCREEN Twitter and Facebook accounts.