TV Watch: J.K. Rowling on BBC's "Who Do You Think You Are?" Tomorrow, Aug. 17 at 9pm BST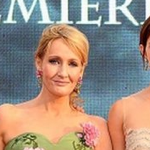 Aug 16, 2011
J.K. Rowling's appearance on the BBC1 show "Who Do You Think You Are?" will air tomorrow, Wednesday, August 17th at 9pm BST in the U.K.
Always intrigued by her late mother's French ancestry, the Harry Potter
author delves into her Gallic roots by visiting Edinburgh, London and
Paris. Keen to find out why her great-grandfather, Louis Volant, was
awarded one of France's most prestigious medals for his actions during
the First World War, the writer makes a surprising and shocking
discovery. Even further back, she encounters an ancestor who triumphed
against all the odds.
Earlier this month, Ms. Rowling gave an interview to the Radio Times in which she discussed her experience on the show and the decision to trace her mother's French ancestry. We hope to have video of her appearance on the show once it airs!