Rupert Grint Attends V Festival, Talks About Life Post-Potter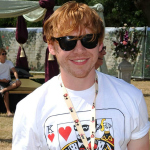 Aug 22, 2011
Actor Rupert Grint (Ron Weasley) attended V Festival over the weekend in Hylands Park and spoke to the Press Association about his life now that the final Harry Potter film has been released.

"It's going to take a while to really sink in – it was quite a shock
really. It all seemed to end quite suddenly but now the film's out it is
kind of closure and I'm excited to move on," Rupert said at Virgin
Media's V Festival in Hylands Park this weekend.

"It has kind of been this bubble – it's like graduating I guess. We've all learned so much."

Rupert said he is keen to keep contact with his Potter
co-stars – in particular the Weasley twins, played by James and Oliver
Phelps.

"I spend a lot of time with the twins. All of us really,
we've all shared this quite unique experience together and we'll always
stay in touch."
Images of Mr. Grint at V Festival can be seen at this link courtesy of RupertGrint.net.