Severus Snape Chosen as Favorite Harry Potter Character via Bloomsbury Poll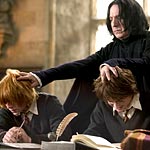 Aug 30, 2011
As readers will recall, Bloomsbury, the UK publishers of the Harry Potter novels, asked fans of the series to vote for their favorite character from author J. K. Rowling's series. Voting concluded late last week and the results are in: Severus Snape was voted as the favorite character form the Harry Potter novels. Hermione Granger came in at second place, with Sirus Black and Harry Potter, himself, in the third and forth slots, respectively. A press release reads:
The vote was launched in May 2011 and received over 70,000 votes. Severus Snape gained 20% of those votes (just under 13,000) making him a clear winner. Severus Snape has appeared in all seven of the Harry Potter novels and came to be an integral part of Harry Potter's life.
Hermione Granger took second place and Sirius Black third. Harry himself came in fourth and Lord Voldemort just made the top twenty at number 17. Dobby is the only non-human character to make the top ten and another Slytherin, Draco Malfoy, completes the top characters in tenth place. The top ten is below:
Severus Snape
Hermione Granger
Sirius Black
Harry Potter
Ron Weasley
Luna Lovegood
Ginny Weasley
Albus Dumbledore
Dobby
Draco Malfoy
Voters could also suggest their own favourite characters outside of the 40 and of these Oliver Wood was the most popular. Fang, Hagrid's dog, and the Fat Lady in the portrait at the entrance to Gryffindor gained the least votes with only one each!
The full list of all forty can be found below:
The Top 40
1. Severus Snape
2. Hermione Granger
3. Sirius Black
4. Harry Potter
5. Ron Weasley
6. Luna Lovegood
7. Ginny Weasley
8. Albus Dumbledore
9. Dobby
10.Draco Malfoy
11.Remus Lupin
12.Neville Longbottom
13.Fred Weasley
14.Bellatrix Lestrange
15.Minerva McGonagall
16.Rubeus Hagrid
17.Lord Voldemort
18.Nymphadora Tonks
19.Gilderoy Lockhart
20.George Weasley
21.James Potter
22.Hedwig
23.Lily Potter
24.Lucius Malfoy
25.Molly Weasley
26.Cedric Diggory
27.Alastor Moody
28.Arthur Weasley
29.Kreacher
30.Dementors
31.Dolores Umbridge
32.Moaning Myrtle
33.Sybill Trelawney
34.Rita Skeeter
35.Filius Flitwick
36.Argus Filch
37.Dudley Dursley
38.Vincent Crabbe
39.Gregory Goyle
40.Cornelius Fudge