Happy Birthday John!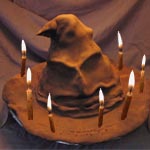 Sep 06, 2011
Horcri. "Don't forget the plus!" "Sirius the ghooooost!" "They're called Thestrals!"
If you've ever listened to a PotterCast or laid eyes on Leaky you've been affected by our very own Mr. John Noe, who today celebrates his birthday! John's been such a special part of the site for so many years and responsible for equal levels of awesomeness and ridiculousness. We hope you'll join us in wishing him the very best of days! As a present, follow him on Twitter.
Happy birthday, J. We love you much.