Images: "My Week With Marilyn," "Comrade," LEGO Harry Potter: Years 5-7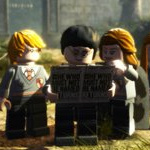 Sep 13, 2011
We have a few new things for you to look at in our image galleries!
First, we have a new picture of Emma Watson (Hermione Granger) in her upcoming film, "My Week With Marilyn." In this image, Watson is with her co-star Eddie Redmayne.
Next we have a new image of Rupert Grint (Ron Weasley) in his upcoming film, "Comrade."
Finally, we have two new images from the upcoming LEGO Harry Potter: Years 5-7 video game. The first image is a wallpaper from the LEGO Harry Potter: Years 5-7 Facebook page and it features Harry and Voldemort dueling. We also have a picture of Voldemort with a broken wand.
Many thanks to SnitchSeeker!