Roundup: Upcoming Harry Potter Events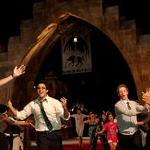 Sep 14, 2011
In the upcoming months, there will be a few events to interest Harry Potter fans!
Wrockstock 2011 will run from October 28th to the 31st. Registration and hotel information is open now.
Wrockeborg, a Swedish Wrock concert, will run on October 15th. Show information as well as a contest can be found here.
Finally, Ascendio (which will run July 12th through the 15th next year) is calling for papers. Read more here!