Actors in the News Weekly Roundup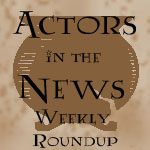 Jan 18, 2011
Awards season has begun for the Harry Potter actors; as a result, many members of the Harry Potter cast were seen at a number of parties and awards ceremonies over the last week. Firstly though, Alan Rickman (Severus Snape) and Fiona Shaw (Petunia Dursley) attended the BAM Theatre Season Opening
Party for "John Gabriel Borkman", in which both actors star alongside Lindsay Duncan. The play runs until the 6th of February, find out more information and buy tickets here on the BAM website. Images from the Opening Party can be found here in our image galleries.
Also in theatre news, thanks to Order Partner DanRadcliffe.com we can let you know that Anderson Cooper has been cast as the pre-recorded voice of the narrator in musical "How to Succeed in Business Without Really Trying", in which Daniel Radcliffe (Harry Potter) stars from the 26th of February this year. You can watch a video of Radcliffe talking about Anderson Cooper from the "How to Succeed" YouTube channel below:
Alexandre Desplat, who composed the score for "Harry Potter and the Deathly Hallows: Part 1″, was spotted in the DPA Golden Globes Gift Suite. You can find images at this link in our galleries. The composer also attended the 26th Annual Los Angeles Film Critics Association Awards; photos from the event can be found here in the Leaky galleries. Desplat and Helena Bonham Carter (Bellatrix Lestrange) also attended the 16th Annual Critics' Choice Movie Awards and photos from the event can be seen here in our galleries. The composer and actress also attended the BAFTA Los Angeles 17th Annual Awards Season Tea Party on the 16th of January at The Beverly Hills Hotel, and, of course, images from the event can be seen in our galleries.
Bonham Carter further attended both the 11th Annual AFI Awards (images can be found here) and "The King's Speech" SAG Q&A (images here).
Lastly, Desplat, Bonham Carter and Cedric Diggory actor Robert Pattinson attended the Golden Globes. Images of the composer and actors at the awards ceremony can be found here in our galleries.